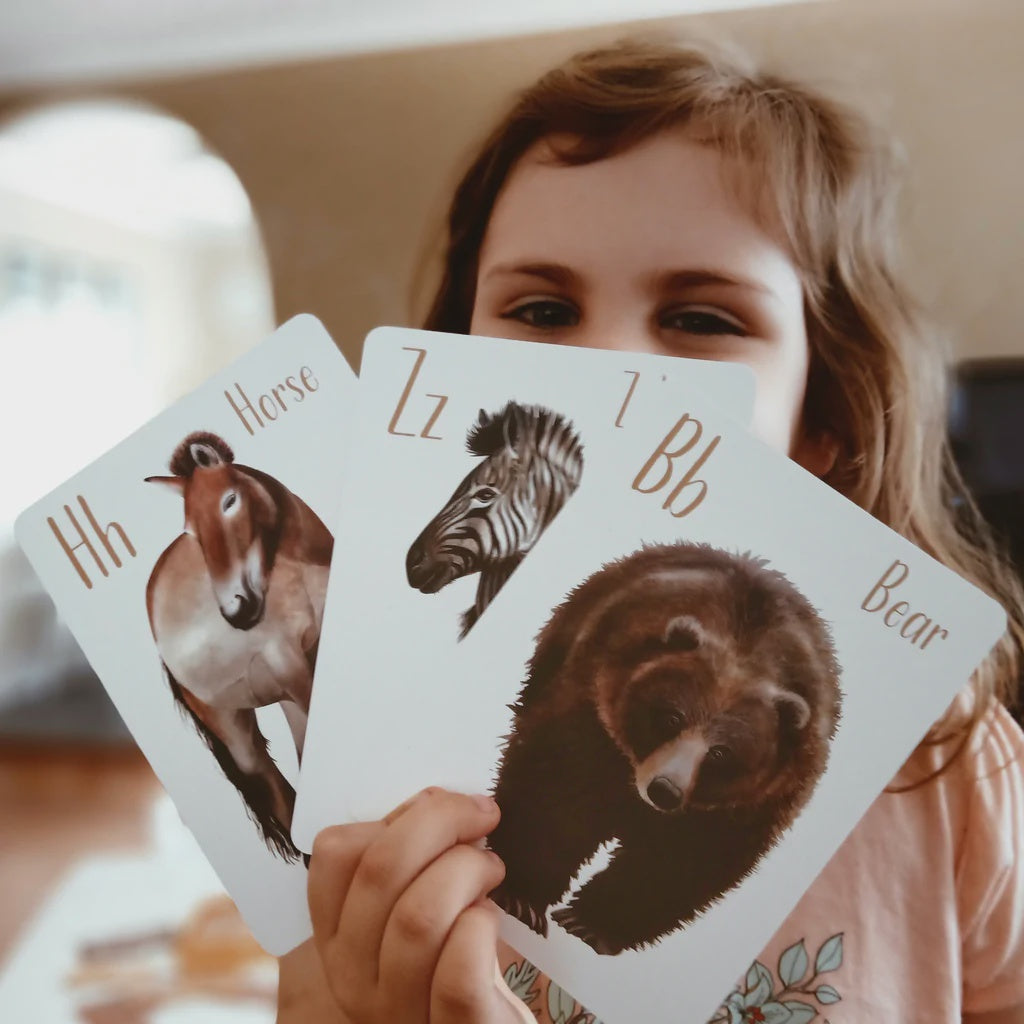 Animal Alphabet Flash Cards
These double-sided, premium quality, Animal Alphabet Flash Cards are a stunning, educational resource, with the learning opportunities only limited by your imagination!
The cards themselves are 400gsm and matte-laminated so they are durable and protected from sticky fingers. The gorgeous, eye-catching, drawer-box is premium quality and makes these perfect for gifting. 
These are intended to be for ages 3+ with adult support and ages 6+ for independent learning. 
The front of these flash cards include:
1) The letter in upper and lower case in an easy to read font.
2) The animal's name.
3) Beautiful and realistic watercolour art by Australian artist Amanda Borchers. We know that realistic art is best for learning.
The back of the cards include:
1) The alphabet with the letter circled. Young learners can visualise the entire alphabet in order and see where the specific letter fits.
2) The animal name is shown in school-approved font to prompt handwriting practice. Exposure to a range of easy to read fonts is important for young readers and writers.
3) 3 interesting facts are featured for each animal including habitat, diet and a fun fact. 
4) The world map with highlighted countries and areas showing where the animal is from. This assists with early geography learning. 
Animal Alphabet Flash Cards
Returns & Exchanges

We will happily exchange or offer a store credit for any item that is returned within 14 days of purchase. Please note, all products bought on sale or with a discount code are considered final sale and cannot be returned or exchanged.


You can read our full return policy here.
Shipping

We offer free shipping on all orders over $200.
(excludes large furniture and artwork).

Our standard shipping rates are ($AUD):
Standard (4-7 business days) - $10.
Express (2-5 business days) - $15.
International - $30.


Furniture and Artwork may have additional shipping and insurance charges apply. Please contact us for custom shipping rates on these pieces.
WORLDWIDE SHIPPING
We ship worldwide, and have free shipping for domestic orders over $250.
Fast turnaround
We pack and ship orders daily.